Cloud computing - the driver of digitalisation
Cloud computing is experiencing a growth in attention world-wide. The necessity for this emerges from ever increasing amounts of data that must be stored and computed by companies of almost any area of business. Additionally, many business problems cannot be tackled without Cloud and HPC technology, especially the age of Industry 4.0.
To compete successfully in today's market, small and medium-sized enterprises (SMEs) require the same tools that larger companies make use of. Needless to say, small businesses do not have all the assets of bigger corporations. This can be financial resources or technical staff like data scientists, programmers and analysts being responsible for the implementation & operation of cloud services as well as GDPR-compliant data handling.
SMEs lag behind at the uptake of cloud services
Thus, SMEs often struggle at the implementation of cloud computing services in their businesses. However, being a small business is not a restriction to obtaining business and market intelligence, as outlined by services, such as SaaS for example.
SaaS helps to turn your data into insights that will inform your decision making, as well as providing a new viewpoint on your own business, no matter if your business is a large, midsize, or a small organization. But to shift data effectively, you'll need the right platform to embrace big data.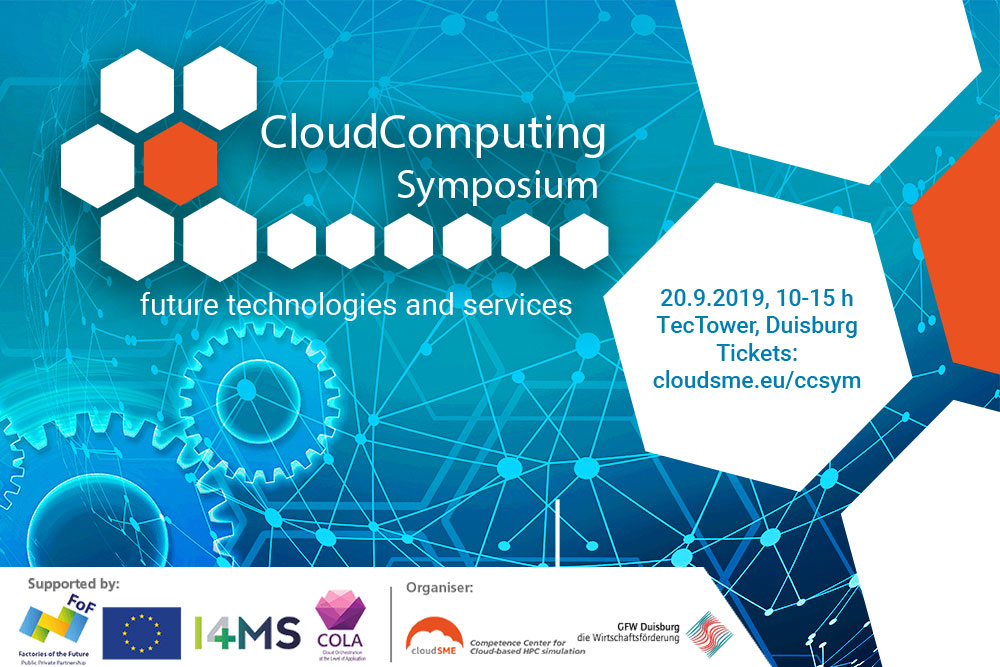 Free admission for students!
It's not the size of your business that matters - the technology you use is crucial!
The success of any business will be related to its ability to spot and react to new trends quickly and effectively.
With the right cloud platform in place, your business can face those new trends with confidence. You will even potentially be able to take advantage of emerging technologies, such as artificial intelligence (AI) and machine learning (ML). It is these emerging technologies that will help your firm to process vast amounts of information quickly.
Therefore all businesses – regardless of size or sector – should consider a cloud-first strategy. That strategy should extend across cloud provision, whether that's software, platform or infrastructure providing your business with flexibility, scalability, automation, easy access to industry software in your business field etc.
The Symposium
The Cloud Computing Symposium aims to enlighten the options cloud services offer to SMEs and how they can be secure and GDPR compliant when using them.
Lectures will cover the opportunities of cloud services while also adressing the security and privacy concerns, many companies have. Initially discussing the opportunities of different clouds (private, public, hybrid or multi-) or cloud services, such as Nextcloud or Open Stack, the event extends to the efficient management of resources. The latter program point will introduce efficient resource management using (autoscaling) orchestration tools like Kubernetes or MiCADOscale (an autoscaling framework for Kubernetes) and others. The feasibility of Big Data processing will be outlined taking a look at a concrete use case tackling Social Media Analytics for Public Sector Organisations.
Agenda
| Schedule | Lecture / Agenda item | Speaker | |
| --- | --- | --- | --- |
| 10:00 | Arrivals | | |
| 10:30 | Welcome | Andreas Ocklenburg, cloudSME UG, Duisburg | |
| 10.45 | Opportunities & Risks - How Can Companies Benefit From Cloud Services? (German lecture) | Oliver Tagisade, KLESYS GmbH Kalkar | |
| 11:15 | Private, public, or hybrid? The way to the multi-cloud. (German lecture) | Andreas Ocklenburg, cloudSME, Duisburg / COLA Project | |
| 11:45 | Coffee break | | |
| 12:00 | GDPR compliance in the (international) cloud business. (German lecture) | Patrick Grihn, DSB  Ruhr | |
| 12:30 | Social Media Analytics for Public Sector Organisations (Outlook: use cases with auto scaling SaaS - EU Projekt COLA) (English lecture) | José Manuel Martín Rapún, Inycom, Zaragoza (Spain) / Projekt COLA | |
| 13:00 | Lunch buffet | | |
| 13:45 | MiCADOscale - Autoscaling Framework for Kubernetes - Resource Management made easy! (German lecture) | Andreas Ocklenburg, cloudSME UG, Duisburg | |
| 14:15 | Nextcloud @ HKN GmbH (German lecture) | Marco Nöchel, HKN GmbH | |
| 14:45 | Initiative RHINECLOUD - secure and flexible cloud solutions, made & hosted in Duisburg (working title) (German lecture) | Kevin Rehring, DVV mbH | |
| 15:15 | Networking opportunity | | |
Free admission for students!
Organisator: cloudSME UG, Partner of the EU Project COLA (Cloud Orchestration at the Level of Application) and the Society for Economic Development in Duisburg (GfW).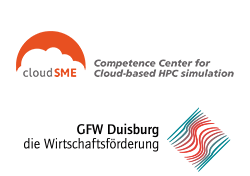 This event is supported by the European Commission and Project COLA under grant agreement no. 731574: