The German-speaking NAFEMS Regional Conference offers a unique, independent, neutral, and comprehensive information service in the field of numerical simulation methods.
Optimization of electrical drive engines in the Cloud
14/11/2019 - Today, we are together with LCM at the NAFEMS DACH regional conference for calculations and simulations in Wiesbaden, Germany. The Linz Center of Mechatronics GmbH showcased how to easily optimize electrical drive engines in the cloud. We suported LCM to work out the right cloud-based service solutions and infrastructure for their customers and existing software. By respecting the latest developments in the industry and science, including security and privacy compliance and hosting flexibility (free choice of data centre, no vendor lock-in).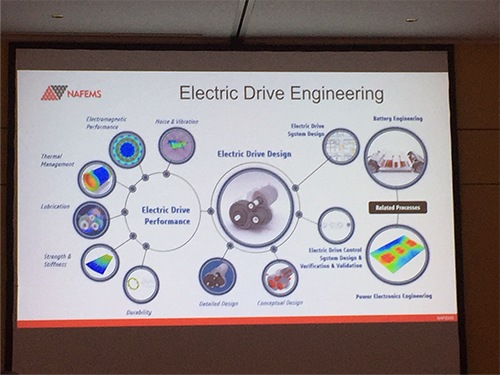 About NAFEMS
NAFEMS is an international organization promoting the safe and reliable use of simulation methods such as the Finite Element Method (FEM). NAFEMS originally stood for National Agency for Finite Element Methods and Standards. Founded in the United Kingdom in 1983, NAFEMS has long since developed into an international society for the promotion of computational simulation. NAFEMS is a neutral institution independent of software and hardware vendors. It promotes the use of computer simulations, represents the interests of industry FEM users, integrates universities and research institutes in their activities and maintains contact with system providers. NAFEMS has over 950 member companies and institutions, and has been present in Germany since 1996, as a national agency and link to the International Association for the Engineering Community, to which NAFEMS has meanwhile changed.