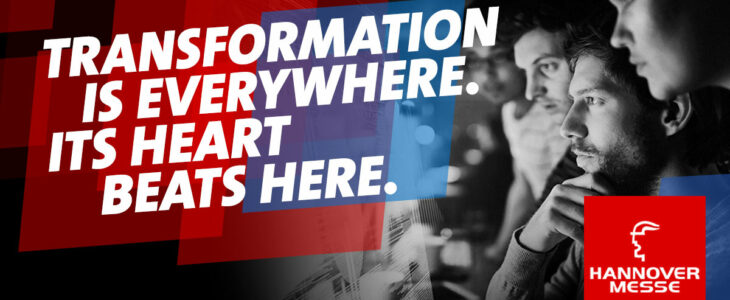 HMI 2022 – finally face to face again!
We are counting the days until it finally starts again!
This year things are looking good so far, the Hannover Messe preparations are in full swing! We are happy about the invitation of the state of NRW (Ministry of Economy, Innovation, Digitalisation and Energy [MWIDE for short]) to participate as co-exhibitors at the joint state stand!
We have a lot up our sleeves for you! After the long hiatus caused by the pandemic for everyone, we can slowly see improvements – in the last two years we did not stand still. Together with our large cooperation network from industry & research, we have fine-tuned our technologies developed them further, and brought together important components. We will present the result to you at the Hannover Messe!
Our goal was to make our digital platforms more user-friendly, to make the structures even more transparent, and to raise the security for data, applications, and the entire infrastructure to a new level. We are proud of our partners and that we have achieved this goal together in the last few months! In the background we are already working on the next development, the plan is to support "Manufacturing as a Service" in approximately one year.

Public B2B platform: emGORA workspace – ecosystem for smart manufacturing
SSO | Directly executable software | Online training | Ad-hoc B2B consulting & projects | Matchmaking market
emGORA workspace (ews) is an ecosystem that puts users first and provides qualitative information and concrete support for the digital transformation of the manufacturing sector. ews lives through its members and togetherness, all offers on ews are provided by third parties. In addition to passing on qualitative knowledge to manufacturing companies, they can also access and use directly executable software licences on ews.
ews brings people and companies together and creates networks with added value to work smarter, better, and faster.
Fair Play – ews is accompanied by an advisory board, which has the task of representing the interests of the members and providers on ews and, together with the operator of ews, to promote sustainable and future-oriented development (from a technical and user perspective). The advisory board currently consists of representatives from institutions and companies such as clesgo GmbH, the University of Westminster, Fraunhofer IGD and the SZTAKI research institute as well as European Digital Innovation Hubs (DIH / EDIH) such as STAM and Innomine.