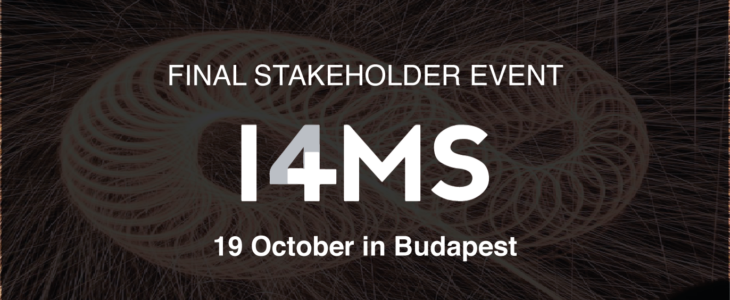 Driving Innovation and Technology Adoption in the EU
I4MS, ICT Innovation for Manufacturing SMEs, will celebrate its Final Event on 19 October in Budapest, before moving on to I4MS2. The European Successor Initiative will focus more on sustainable and resilient manufacturing. The closing event will bring together the manufacturing ecosystem to share success stories, experiences, and know-how.
The conference will focus on networking and showcasing opportunities for European Digital Innovation Hubs (EDIH), European projects, SMEs, technology providers and other Industry 4.0 stakeholders. An accompanying exhibition area will feature guided tours of use cases, fun networking activities, and panel discussions and keynotes on tools, funding opportunities, and more to accelerate the digital transformation of the EU manufacturing industry.
What is an EDIH? An EDIH is a non-profit organisation or consortium that supports companies, especially SMEs, as well as the public sector in digital transformation.
I4MS Phases from 2013 to 2021
ICT Innovation for Manufacturing SMEs Phase 1 – started in July 2013 and focused on creating Digital Innovation Hubs (DIHs) and building a core I4MS community/ecosystem.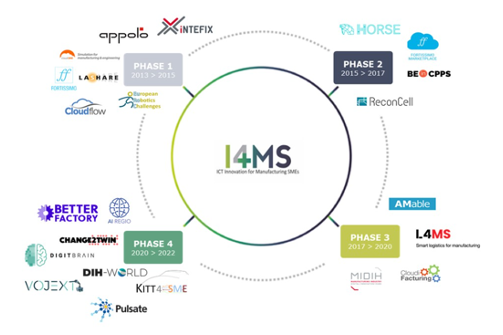 cloudSME
I4MS Phase 1. The CloudSME project (2013-2016) has developed a cloud-based, one-stop solution that significantly lowers these barriers, provides a scalable platform for small or larger-scale simulation, and enables the wider adoption of simulation technologies in small and medium-sized manufacturing and engineering companies. The CloudSME simulation platform supports end-user SMEs to use customised simulation applications in the form of Software-as-a-Service (SaaS). ISimulation software providers and consultancies will gain access to a Platform-as-a-Service (PaaS) solution that will enable them to quickly assemble customised simulation solutions in the cloud for their clients.
ICT Innovation for Manufacturing SMEs Phase 2 – started in autumn 2015 with the aim of further expanding the I4MS community/ecosystem.
ICT Innovation for Manufacturing SMEs Phase 3 – started in September 2017 and aimed at strengthening the I4MS ecosystem. European SMEs and midcaps were introduced to new approaches and methodologies on business models, access to finance and training opportunities to retrain employees.
CloudiFacturing Project & emGORA workspace
I4MS Phase 3. The mission of CloudiFacturing (2017-2021) was to optimise production processes and manufacturability based on cloud/HPC-based modelling and simulation, harnessing online factory data and advanced data analytics. This optimisation contributes to the competitiveness and resource efficiency of manufacturing SMEs, and ultimately promotes the vision of Industry 4.0 and the circular economy. This mission has been fulfilled by establishing the emGORA workspace making both computationally sophisticated production engineering and simulation, as well as data analysis tools, available as testable cloud services to facilitate accessibility and make their use more affordable.
CloudiFacturing`s outcome emGORA workspace, and experiment no. 3, will participate in the I4MS Final Event and showcase the B2B platform (represented by cloudSME), as well as the experiment success story, which will be represented by Nissatech. emGORA workspace is an open ecosystem that provides fast, secure, and trusted multi-cloud infrastructures to market services from different companies in a secure, discoverable, and testable way. It provides direct access for vendors, manufacturers, engineers, and technology experts to market and uses software applications, training, and consulting projects in different clouds.
ICT Innovation for Manufacturing SMEs Phase 4 – launched in June 2020, I4MS focuses on supporting service providers (IAs, DIHs and CCs) in providing a business-oriented description of the technological services they offer, complemented by the identification of best practices.
DIGITbrain Project
I4MS Phase 4. DIGITbrain is an EU innovation programme with the vision of unlocking the innovation potential of manufacturers through digital twins. The project will provide manufacturing companies with easy access to Digital Twins, which through their use can streamline the manufacturing process, make predictions about expected machine failures and predict maintenance needs. The DIGITbrain project builds on previous successes and is deeply rooted in the innovation ecosystem of the I4MS project CloudiFacturing and the industrial platforms FIWARE and IDS.
DIGITbrain project is one of the Phase 4 innovation actions invited to present an experiment success story at the event. The project will be represented there by IDM Systems, which will present the DITAC experiment, which aims to reduce the effort required for a post-sale change by providing virtual support/simulation for the required design changes.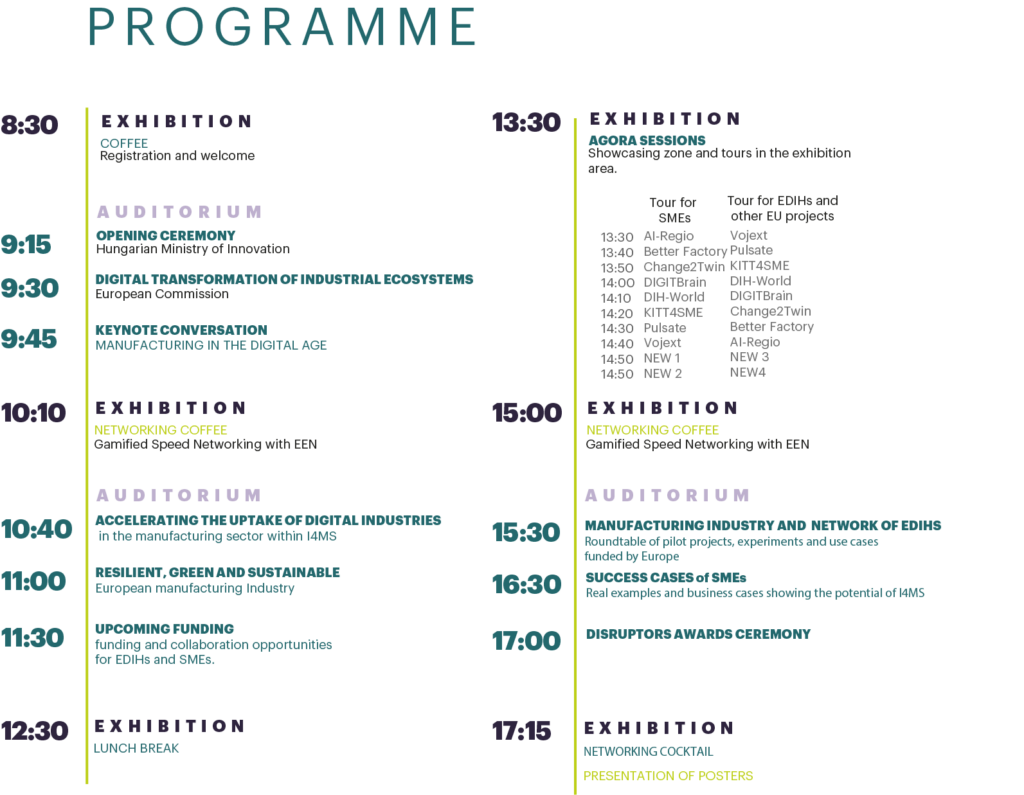 Innovations from the manufacturing industry – discover more on I4MS.eu