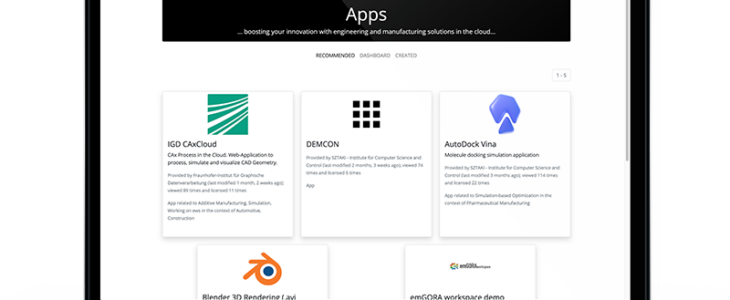 emGORA workspace is an open ecosystem that provides fast, secure, and trustworthy multi-cloud infrastructures to market services from different companies in a secure, discoverable, and testable way. Providing vendors, manufacturers, engineers, and technology experts with direct access to market and use software apps, training, and consulting projects in different clouds.
It is the age of information overload, we can reach whatever and whomever we want. It is both a curse and a blessing for us. Everything can be found on the internet, but also almost everyone can be found. Companies are experiencing similar challenges, researching & finding a solution to improve productivity can be very disappointing as well as resource & energy draining.
To cope with the existing oversupply of information and to create more transparency, increased efforts were focused on providing trustworthy platforms within the European DSM (Digital Single Market).
Trustworthy platform for manufacturers & technology experts
The movement of trusted digital platforms in Europe continues to progress, and the European government and its economy are aiming to protect the data of Europeans as well as to become more competitive on the global market, one of the most prominent initiatives being GAIA-X. But next to those, there are plenty of specialized initiatives that are aiming to contribute to the European overall vision. Like the emGORA workspace (ews), which offers a trustworthy place for manufacturers & technology experts on the internet that actively protects the data of their users instead of making money with it.
emGORA workspace – B2B ecosystem for the manufacturing sector
The emGORA workspace makes it easier for companies in the manufacturing sector to get started with digital transformation. ews is a community-driven digital platform for companies, digital innovation hubs, universities, software developers, and industry experts.
The marketplace focuses on facilitating and supporting the search for technology experts' skills, e.g. software solutions, training and ad-hoc consulting projects, to offer manufacturers a new way of finding and applying solutions. (The members of the ecosystem can support companies in their digital transformation through directly executable software tools, ad-hoc consulting as well as training offers.)
Without the right perspective, digitization is a powerless tool
The community offers its members a platform for exchange and interaction and the opportunity to benefit from the collective intelligence of other participating manufacturers and experts (e.g. shared insights, panel discussions, calls for solutions). Facilitating knowledge sharing amongst members about common methods as well as best practices allows them to find new partners in the matchmaking market.
Security through technical design. Zero Trust.
The technical design of the ews enables us to offer our members the greatest possible flexibility and security. In doing so, the security of records, personal information, and the privacy of individual organizations on our digital platform is managed as a top priority. This means that from the start databases, datasets and other information (like training, software, and consulting projects) cannot be manipulated. All structures are designed to give users and operators as much access as necessary, but as little access as possible.
Enter the digital universe & test before investing
Within the ews ecosystem, software companies, emGORA workspace providers, are independently taking care of deployment, provision, and SLA of their software tools and ensuring that users have the optimal conditions to run the purchased software tool on an as-needed basis. It eliminates the need to purchase expensive local workstations, software tools, and computers with sufficient computing power, which are still necessary for many data analyses or simulations.
In long term, it is all about transparency, costs for offered services are clearly displayed, enabling companies to better estimate project costs and investments for innovative solutions and to calculate them more realistically – without having a profound understanding of the technology and software.
Users only pay for the services they actually use
Community and our members come first, so to ensure safety and fair interaction, every organization must undergo a validation process. ews help to be successful in your business. Every member, whether provider or user, will discover their personal advantages in the ecosystem and benefit through transparent services in a secure digital ecosystem.
Do you want to offer tools or training?
To utilize the marketplace to offer services, the Legal Entity Owner can request an upgrade of the membership in their Legal Entity settings. After the successful provider approval by the operator, providers can offer apps, training, and consultancies independently via the marketplace.
Providers benefit from the visibility of their offered solutions as well as the presence of the company itself. As soon as Legal Entity membership is upgraded, it is listed on the emGORA workspace partners page. Further, improving access to digital goods and services in an environment where digital networks and services can thrive – will contribute to maximizing the growth potential of the European (digital) economy.